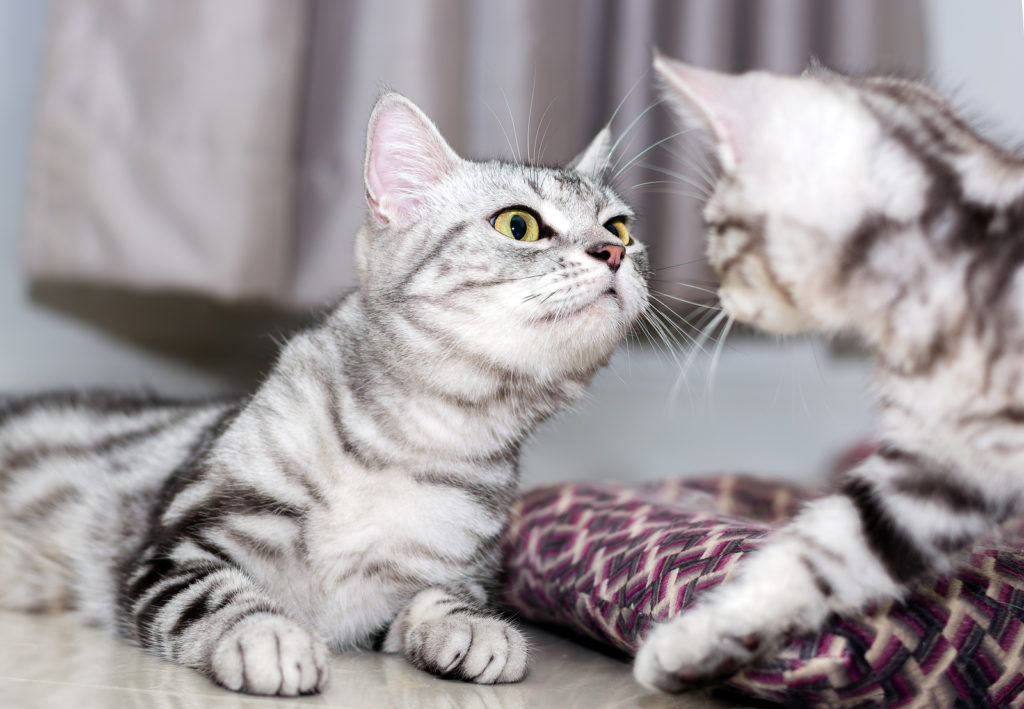 American Shorthair cats are known for their powerful bodies and strong hunting instinct. Both male and female American Shorthair cats have muscular legs and a densely thick coat. While female and male American Shorthairs are generally quite similar, there can be a few subtle physical and personality differences.
Comparing Male and Female American Shorthairs
Both male and female American Shorthairs make great companions and are very loving. While they do like to receive and give affection, these cats are also generally good at keeping themselves occupied. Whether sleeping alone or playing with toys by themselves, these cats are easily contented and don't require a ton of attention. Owners of American Shorthairs find that both sexes like to have a nice balance of hands-on attention as well as a certain amount of solitude.
Both male and female American Shorthairs have thick (but short) fur. Both sexes of this breed are hearty cats that evolved spending a great deal of time outdoors, so you can expect that both male and female American Shorthairs will have the same strong temperament. Some owners have reported that their male American Shorthair cats have a slightly sweeter nature and enjoy cuddling a bit more than their female counterparts, but this is not always necessarily the case.
The only difference you may find between male and female American Shorthairs is in their weight. Male American Shorthairs tend to put on a bit more weight than their female counterparts. Thus, male American Shorthairs are often bulkier and heavier, though both sexes of this breed are quite huskily built. If you are looking for a more diminutive cat, you may want to choose a female.
When it comes to caring for either sex, owners should pay close attention to their feeding schedule and habits. This breed of cat has been known to gain weight easily and should be closely monitored for obesity. Since male cats of this breed tend to be heavier, they may need a stricter feeding schedule to keep them healthy and in shape.
Whether you want a male or female American Shorthair, both sexes are true to their breed. Strong, well built and adventurous kittens, the American Shorthair breed is a great choice for owners that are looking for a more independent pet. When considering the differences between a female and male cat, it is better to pay closer attention to their individual personalities rather than their specific sex.